Night Hawk Relay: https://eventor.orientering.no/Events/Show/11381
Individual:
Saturday: https://eventor.orientering.no/Events/Show/11195
Sunday: https://eventor.orientering.no/Events/Show/11196
Kids:
Saturday: https://eventor.orientering.no/Events/Show/11197
Sunday: https://eventor.orientering.no/Events/Show/11198
Prices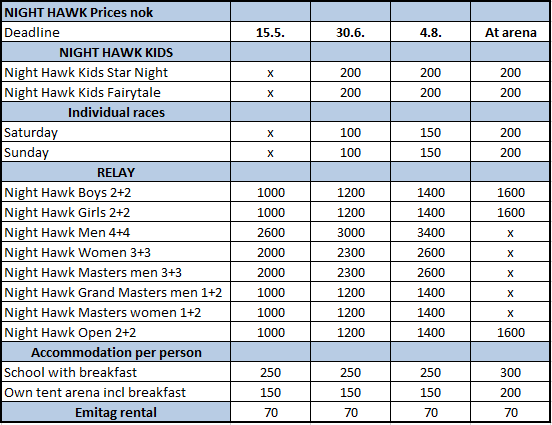 NightFlash Youth incl pizza and lemonade. 100 kr, 150 kr at arena.
Payment
At the moment its not possible to pay for services like EmiTag, accommodation and Night Flash for those who register for the Night Hawk Relay.
We will send out information by e-mail to registered teams when its possible to pay for these services.
Payment in Eventor with VISA or invoice after competition, invoice fee 130 nok.
At every deadline your entry is locked. Changes in your entry is possible for a fee of 200 nok.
The EmiTag rental is a fixed fee of 70 kr for as many legs/races you want to run.
How to order in Eventor
In Eventor you have to register for Night Hawk Relay, Kids and Individual separately.
To register for services you go to the yellow box and add services. All services is per person