Night Hawk 2020
@Fossum Idrettspark – Oslo
8–9th of august
The relay for everyone!
Club tour to Night Hawk in Oslo
– just prior to WOC 2019!
NEWS 2020
• TBA
Go to race info for more information about
Public transportation
TBA
Car and parking
NOK 60 pr day/ NOK 100 Sat&Sun
Tickets can be bought in VippsGo #10711, cash or with card in Infotent
Everyone must buy a ticket at the entrance
Arena
Fossum Idrettspark, Oslo
Programme
Saturday 8th of August
13.00: Arena, event office open and restaurant opens
14.00 – 16.00: Free start individual classes
19.00 – 22.00: Handout EmiTag and GPS
20.00: Night Hawk Kids Star Night, mass start
21.30 – 22.00: Free start individual Open Night
21.30: Start Girls & Boys leg 1-2
21.45: Start Open , leg 1-2
21.55: Start Women og Masters Women, leg 1-3
22.20: Start Men, Masters Men and Grand Masters Men, leg 1-4
22.30-00.30: Night Flash Youth – party at the arena
23.45: Prizegiving ceremony winner night legs
01.00: Finish line closes
Sunday 9th of August
08.00 – 10.00: Breakfast at the arena and school
09.00: Arena, event office open and restaurant opens
09.00 – 11.30: Handout EmiTag and GPS
10.00: Night Hawk Kids Fairytale, mass start
10.10: Chase start Boys
10.20:  Chase start Girls
10.30: Chase start Open
10.40: Chase start Women
10.50: Chase start Masters Women & Grand Masters Men
11.00: Chase start Masters Men
11.10: Chase start Men 5-6 leg
11.00-13.00: Free start individual classes
11.30: Mass start Boys and Girls
12.30: Prizegiving ceremony Boys og Girls
13.30: Mass start Open, Women, Masters Women og Grand Masters Men
14.00: Mass start Men og Masters Men
14.15: Prizegiving ceremony Open, Women, Masters Women, Grand Masters Men, Masters Men and Men
16.00: Finish line closes
Map
TBA
Terrain
TBA
Special map/terrain info
TBA
Terrain embargo
TBA
Emitag and Emit touchfree
Runners can use their own EmiTag or rent EmiTag from the organizers. Handout of EmiTag is done in the EmiTag tent at start. You can only use your EmiTag one time in the relay Sunday.
EmiTag has to be delivered after finish Saturday
EmiTag handout again on Sunday morning
Important! Many controls close to each other – check code!
Important2! Its other controls in the terrain, but they are not touch free controls
Training
Training start from Linderud parking: here
Send an e-mail to natthauken@gmail.com to get your map
EmiTag
Strap the tag around your wrist with the supplied band. In speed the punching is performed by holding the emiTag 0-50 cm above the control for a short moment. The LED light in the emiTag will start flashing, and keeps flashing for 5 seconds after the punch. More info here
NOTE! It is important to see this flashing, since this is the only feedback telling you that the punch is performed correctly! EmiTags with a number lower than 3 673 870 must be replaced or battery must be replaced in 2019.
If you dont have an EmiTag you can buy this at the sportshop or rent from the organizers.
Total cost of 70 kr for as many legs/races you want to run.
Touch Free controls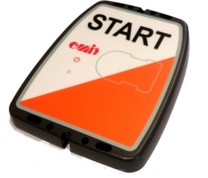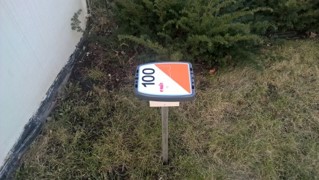 The controls are of the type Touch-Free PRO.
Punching range when standing still is 60cm. The range is reduced when punching in high speed.
Do NOT touch the control unit when punching
EmiTag Start
Hold your emiTag up to the starting unit to "zero/clear" the emiTag. The start unit is placed at the start. The unit has to be recorded after finish.
You can bring your own EmiTag, or rent in Eventor for 70 kr. You can only use your EmiTag once in the relay Sunday.
GPS-tracking
Handout of GPS-tracking at start
Saturday: Handout of GPS to Men and Women
Sunday: Handout of GPS to Men and Women
GPS-tracking will be shown at the arena. During the chase start Sunday its not allowed for runners to look at the GPS-tracking at arena.
Start/Finish/Changeover
Mass start Saturday
Bring your start number and EmiTag to start. Check that the barcode is visible and undamaged. All classes starts at the arena (look at arena map). Access to start is possible 15 min before start. The maps will be give out 3 minutes before start. The start will be given by speaker – see time schedule for start time.
Start order mass start Saturday:


In every square its 10 rows with 10 runners. Start number 1-10 at the front.
Sunday
Hand out of EmiTag in EmiTag tent from 09.00
Chaste start in all classes from arena. Access to start is possible 15 min before start. The start is set by the starter- see time schedule for start time.
News 1: Time differences cut to half between the teams after the night legs in all classes
News 2: Chasing start Sunday in the Men's class with leg 5 and 6 start at the same time. Leg 5 and 6 differ in lenght. Leg 7 has to wait for both 5 and 6th leg before start. It will be a blank map which has to be given to 7th leg runner by first runner arriving finish (just like 25.manna).
Results
Startlists, results, GPS-tracking and pictures will be given at Results.
Results and GPS tracking will alos be shown at screens at arena and at boards.
Entry at arena
Its possible to register in the Infotent at arena for the classes  Girls, Boys, Open, Kids and Individual races. EmiTag you will get in the EmiTag tent.
Team bags
Team bags can be collected in the Infotent saturday between 18.00-21.30. The team bags contains start numberfor both night and day legs, startlist and PM. All runners has to wear a start number.
Deadline team line-up
Team line-up has to be delivered before 13.00 Saturday in Eventor. Its not necessary to insert EmiTag number in Eventor.
Runners bank
Go here
Sports nutrition
Its sports nutrition in the forest and at arena. We have water and sports nutrition from Fuel of Norway
Shower
Shower at the school accommodation for those who are staying there.
Prizegiving ceremony
Saturday
Winners of night legs Women and Men will be given a prize 23.45.
Sunday
Prizegiving ceremony for Boys and Girls 12.30
Prizegiving ceremony for other classes 14.15
Restaurant and kiosk
Have your dinner at the arena! We serve delicious Steak stroganoff and hamburger in the restaurant. We will also sell vaffles, cakes, fruit, smoothie, coffe and soda. Sunday morning you can buy breakfast at the arena between 08.00 and 10.00. Order your breakfast at arena in Eventor or buy it at arena. Breakfast at school accommodation, will be served at Apalløkka school 08.00 and 10.00. At the school accommodation it will be an kiosk with soda, baguettes and snacks on Saturday. You can pay with card, cash (NOK) or Vipps 10711.
Sales
Kiosk and restaurant
Runes O-shop
Night Hawk clothes
Entry
All entries are to be made in eventor. Foreign runners and clubs should also make their entries in eventor.
For more information go to Entry
Prices
TBA